Lake Falcon Texas best bass fishing and boating web portal. Bass fishing news, marinas, lodging, boat repair, tackle shops, bass fishing tournaments, fishing reports, bass fishing guides, bass boat news, bass fishing classified ads, bass fishing product reviews, bass fishing forums and more. Lake Falcon Guide is dedicated to providing Lake Falcon bass fishing and boating enthusiasts a venue for posting news about your bass fishing and boating experiences, questions and comments. You submit the news about your lake, bass fishing tournaments, conservation issues or anything else, related to bass fishing, boats and boating, that's on your mind.
Lake Falcon bass fishing news, the way you want it! You post your news Submit News, post your bass fishing photos in the Photo Gallery, discuss your favorite bass fishing or bass boat topics in the Forums, read or post bass fishing reports and buy or sell bass boats, bass fishing tackle, depth finders, GPS units in our Lake Falcon Classified Ads.
Falcon's future is bright because the periods of receding water and growth of terrestrial vegetation followed by water rises make Falcon the dynamic lake that it is today. There's no doubt in my mind that Falcon is currently the best bass fishery in the country.
Location: Mainstream reservoir on the Rio Grande River, located 40 miles east of Laredo on Highway 83 in Zapata and Starr counties
Surface area: 83,654 acres
Maximum depth: 110 feet at dam
Impounded: 1954
On the Texas side of the lake, all species are managed under current statewide regulations. For recreational anglers fishing Mexican waters, a Mexico fishing license is required for everyone in the boat. Mexico boat permits are no longer required. For information on Mexico's fishing regulations, visit the National Aquaculture and Fishing Commission (CONAPESCA) website.
Mexico licenses can be purchased in Zapata at Robert's Fish N' Tackle (2425 S. Highway 83, 956/765-1442) or from Falcon Lake Tackle (2195 S. Highway 83, 956/765-4866.)
Several fishing guides are available at Falcon Reservoir. A list is available from the Zapata Chamber of Commerce. Falcon has long been regarded as one of the best largemouth bass lakes in the state. To win a bass tournament at Falcon, it often takes a 5-6 pound average/fish for your stringer. Channel catfish provide additional opportunities, with an occasional blue or flathead catfish. Recent drought conditions have adversely impacted the white bass and crappie populations.

Falcon is a relatively shallow lake with gradual sloping banks found in the majority of the reservoir. At low lake levels rock piles and standing timber provide the majority of structure. At conservation pool level, strong growths of terrestrial vegetation provide excellent cover and structure. Prior to the onslaught of the drought, hydrilla provided good fishing cover along the shoreline. Largemouth bass anglers are more successful during the spring, fall and winter months. Popular baits include spinner baits, crank baits and Texas and Carolina rigged worms. These are used around flooded brush, points, and offshore structure which includes humps, rock piles, inundated buildings, and road beds. Summer fishing at Falcon can be tough, partially because of the South Texas heat. The same lures mentioned above along with top-water and buzz baits (fished early and late) are successful. Catfish can be caught almost any time during the year. Stink baits or natural baits such as shad, shrimp or sunfish are effective for catching catfish throughout the lake.
Nearby points of interest include Lake Casa Blanca International State Park and Bentsen-Rio Grande Valley State Park (part of the World Birding Center); Falcon Dam, with a memorial to the joint US-Mexico project; Nuevo Guerrero, built across the border after Falcon Reservoir engulfed old Guerrero in 1953; Mexico; Fort Ringgold in Rio Grande City, established in 1848; the City of Roma, which was founded in 1768 and is currently restoring several old buildings. Roma has many historical sites including the Roma Historical Museum with exhibits on American, Spanish and Mexican cultures.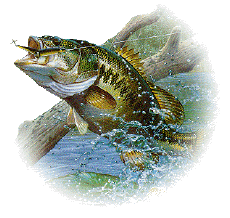 Gently rolling hills are covered by mesquite, huisache, wild olive, ebony, cactus native grasses. Falcon Lake is a big fishing paradise, especially for those seeking black and white bass, catfish, and stripers (Link to detailed lake and fish info). The area is very popular with bird watchers; varied and interesting bird life consisting of common resident birds, which range throughout the American Southwest, and many of the tropical species for which this is the northwesternmost outpost. Also, there are uncommon varieties such as the small green kingfisher and the varied bunting.